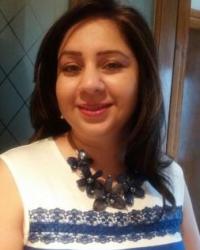 Additional Spoken Languages:
About Me:
Hi! I am Sunita, a Personal Assistant working in the community, with over five years of experience working with both adults and children with disabilities and special needs.
Having completed all relevant trainings and gained strong experience as a Professional Carer in the community over many years, I have an excellent track record and proven competence in meeting the needs and support of many different clients, with whom I have been kept as Personal Assistant for many years now.
I am a hardworking, easy-going and happy person with a passion for my job. I love meeting new people and enjoy caring and getting to know people from all walks of life and backgrounds. I am also an active person who likes to do a variety of activities such as going for walks and swimming.
I previously worked as Teaching Assistant in Rank 1 Primary School, teaching and caring for young children for a number of years.
I also have BA degree in Psychology & Philosophy.
Specialist Skills:
Dementia
Learning Disabilities
Mental Health
Older People
Physical Disabilities
Interests:
Board Games
Card Games
Computers
Cookery
Dancing
Films and Cinema
Fitness and Health
Food and Drink
Gardening
Music
Swimming
Travel